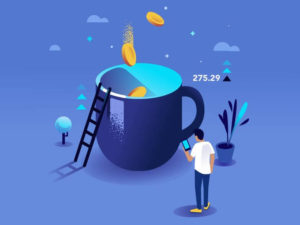 A common believe is that you can only invest with huge amounts of money. But if you don't have enough money, is there any chance to join investment business?
Well, this article contains the tips to help you start an income generating activity with only $500. But before we get into that, you will have to follow two strategies before investing.
What You Should Do Before Investing
Although small investments don't necessarily require a lot of money to start, they generally need some financial responsibility and healthiness. Before you even think of investing your little money, ensure your financial status is healthy in the first place.
Here are the two ways of ensuring financial health. First, have an emergency fund. Jumping into an investment without establishing an emergency fund is setting up future problems. As soon as a bad financial issue like medical bills or car repairs arises, you will obviously jeopardize your financial account if you didn't build an emergency fund.
Moreover, you should pay off all the high interest credit card debts. If your resources are limited, consider settling all of your high interest credit card debts before investing. The sooner you clear your card debts, the less you pay on interests – and the more you save for investments. Without consuming much of your time, here are the investment tips.
Consider DRPs and DRIPs
A dividend reinvestment plan (DRIP or DRP) is a small investment option that helps you make a direct purchase of stocks directly from the company, without using an intermediary or a broker. The program typically enables you to buy company shares, as long as you can afford. The benefits of dividend reinvestment plan include:
The Concept of Dollar-Cost Averaging
If you consistently invest a specific amount on a monthly basis – say $25 – dollar cost averaging gives a substantial return over time. That means your average cost per share represents higher prices when market conditions are favorable, and lower prices when things are not so good.
Dividends Paid By the Company
Dividends paid by the company are invested back in your holding. This is known as dividend reinvestment. Dividends are earnings that the company gives to its shareholders, and essentially allow you to increase your stock.
Invest in individual Stocks
With your little money, you can invest in individual stocks. You can buy individual stocks for as little as $5 per trade, through discount brokerage firms like TD Ameritrade, ETrade, TradeKing, and Scottrade. Loyal3 is also a perfect choice – especially for beginners. It allows investors to buy fractional shares of their choice from over 70 different companies.
Select Mutual Funds
Although most mutual funds require huge amounts of investment money, we still have several of them that can accept your small initial investments of $600 or less. If you do a quick search through the Morning Star, you will discover more than 200 mutual funds that allow you to invest with as little as $500 or even less.
Trying to cash in on some investment idea that you may have. Licensed money lenders will be able to help you with that. Taking a short term loan may seem stupid but in the long run, that investment will help you to generate more returns.
Considering this course of action, you can approach us! We are known to be the best licensed money lender in Singapore. We have the expertise to advice you on which loan package is the best for you. Contact us now if you are interested!
Summary
Reviewer
Review Date
Reviewed Item
investments will definitely help you generate more money
Author Rating